CHILDREN'S WIGS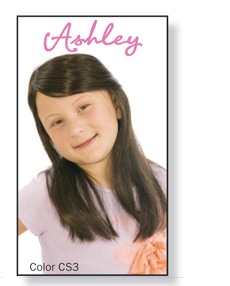 INTRODUCING THE NEW LINE FOR GIRLS NOW AVAILABLE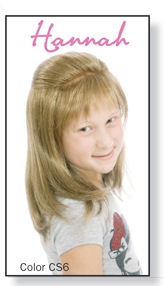 TO MAKE A YOUNG GIRL FEEL COMFORTABLE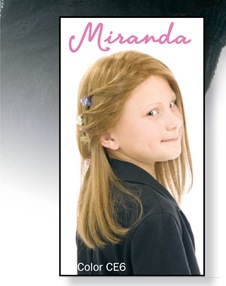 EASY TO ADD HAIR CLIPS FOR THAT NATURAL LOOK!!!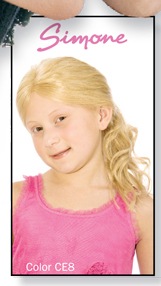 EASY TO ADD A PONY TAIL FOR THE YOUNG

WE ARE INTRODUCING A LINE OF FOUR NEW CHILDREN'S WIGS AVAILABLE IN HUMAN HAIR. EUROPEAN HUMAN HAIR AS WELL AS SYNTRESS SYNTHETIC FIBERS. THE FOUR DESIGNS ACCOMMODATE PETITE HEADS OF "19 CIRCUMFERENCE AND ARE IDEAL FOR CHILDREN, PRE-TEENS AND YOUNG ADULTS.

ALL FOUR ARE AVAILABLE IN THREE VIBRANT COLORS AND ARE SPECIFICALLY BLENDED TO ACHIEVE A YOUTHFUL AND NATURAL FLOWING LOOK AND STYLES THAT WILL SATISFY A YOUNG CHILD'S NEEDS.